I will start from the beginning:
April 2014 - Norwood 5
3.5 years after my first FUE hair transplant (2000 grafts with Dr De Reys in May 2014)
6 months after my second FUE hair transplant (2024 grafts with Dr De Reys in January 2018)
Front:
Left side:
Right side:
I'm almost like: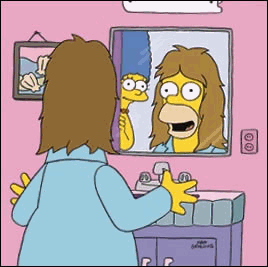 But then, one look at the crown (something hair transplant clinics will often not show):
I'm quite happy with how it looks from the front and sides. As usual I'll discuss my future plans: I already have a third (and last) FUE hair transplant booked with Dr De Reys in February 2019, but unfortunately, he said he'd only be able to extract around 1000 more grafts to place on the crown. Other than that, I'm thinking about having some temporary SMP (tricopigmentation) done at the back of my head after the third hair transplant since it won't be enough to cover everything properly. I've also started dermarolling on my crown with a 1.5mm dermaroller two weeks ago. I don't think it will do much but it's worth a try.
My recovery may not be complete, but I undoubtebly feel and look much better than if I hadn't chosen to go the multiple hair transplant route when I was 24 years old and already a slick NW5. I'm also quite confident that new effective treatments and procedures will come out soon.
9 month update:
1 year and 1 month update:
Third FUE with Dr. De Reys (1100 grafts on the crown area) in February 2019
Crown before:
Crown post-op:
Crown - 6 month update: