This post is a message to everyone in this forum, no matter who you're or what you're, this message is for you. I'm not asking you for money, upvotes or anything, you can downvote me all you want, i'm just asking you for one thing, read this post. I'm sorry if that post is long, but this is a really serious topic and no matter what i say, i'll never cover how important it is.
Have you guys wondered why many of the enemies of Islam who hate it so much and think it's pure evil, actually end up joining Islam later ? Even those Alt right who are more angry than That Guy himself, when they search Islam in order to attack it, they end up converting to it instead.
Take Joram van Klaveren for example, who until 2014 was a member of the far right Freedom Party (PVV), a political party known for its harsh stance against Islam and the presence of Muslims in the Netherlands. Moreover, he had been the right hand of Geert Wilder, leader of the PVV and one of the fiercest opponents to Muslim migration and what he calls the "Islamization" of Europe. He has frequently called for the banning of mosques and hijabs, as well as for the halt to Muslim immigration. In fact, Wilder was recently convicted for hate speech and inciting discrimination after calling for the expulsion of Dutch Moroccans from the country, threatening to take an active part in solving the issue. This, allegedly, is one of the reasons van Klaveren left the party.
He ended up converting to Islam after researching it
But this is not the only case known. In January 2019, Arthur Wagner, member of the alt-right political party "Alternative für Deutschland", decided also to leave the party and convert to Islam. Alternative für Deutschland has promoted several campaigns against the "Islamization of Germany" and the presence of Muslims in the country in the last years.
Although he has not publicly explained the reasons behind his conversion, he has confirmed the fact and rejected his former political party.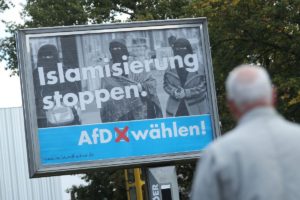 imilarly, in 2013, Arnoud van Doorn, also a member of the Dutch Freedom Party (PVV) –van Klaveren's former party– and former advisor of Wilders, was expelled from the party after converting to Islam and travelling to Saudi Arabia to perform the hajj.
In the following video, he explains the reasons for his conversion, as well as for his previous radical stance. As he explains, it is easy to fall for the prejudices and stereotypes promoted both by the media and a part of a fearful society.
Many other examples can be found all across the world. The following video, a snippet of local news in the US, shows the case of two American anti-Islam demonstrators, whose views made a U-turn after they were invited to visit the mosque they were demonstrating against. As they explained, they were surprised by the Muslims' tolerance and kindness, as well as by their desire to explain to them what Islam really is. After these events, they have not only rejected their former bigoted stance, but are willing to continue visiting the mosque and getting to know its Muslim community.
You know why ? Because when they read about true Islam themselves to be able to attack it correctly, they found the true light that was hidden from them, that's why everyone should really research the true Islam and see the truth with their own eyes.
"(6:122) Is he who was dead and We have raised him unto life, and set for him a light wherein he walketh among men, as him whose similitude is in utter darkness whence he cannot emerge? Thus is their conduct made fairseeming for the disbelievers."
Let's seriously talk about Islam, and while this will not contain any info about Islam itself, i just want to clear some misconceptions and ask some questions.
As i said before, i want nothing from you, but to read what i have to say to the end. Almost everything you've been taught about Islam is a lie. There's a reason they just don't want you to be Muslims, since the Islamic ideology is like a spear thrown in the heart of their sick plans, and i'm going to prove it.
When a Muslim who's Asian, White, Black, etc, stabs a cop or raped a woman, which is a bad thing of course. Why when the media report it they include Islam in the news ? What does Islam has to do with it ? Islam doesn't tell us to rape and kill innocents, so why mention it ? Easy, to make you hate Islam and feel threatened by it. When a Christian or a Jew or a Hindu commits the same act, you'll find the news saying "A White man committed this and that", "An American committed this and that", "An Indian committed this and that", while NEVER mentioning their religion. Why exactly ? How is that fair ? It's also simple, because they don't care enough to make people hate those religions, but when it comes to Muslims it's a golden opportunity to kill any chance of people knowing about this religion or accepting it.
Also about "Jihad", you've been lied to about Jihad, you've been brainwashed into thinking that Jihad is a bad thing.
Do you seriously think that all the worlds really strong armies who have rockets, satellites, all this advanced weapon, huge budget, etc. Can't take out organizations like ISIS or Al Qaeda or whatever those people who commit really bad acts and terrorize the whole world ? Can you even believe this nonsense ?
Jihad also doesn't mean killing innocent people, blowing yourself up, raping women, etc. Jihad is done for self-protection and when Muslims tried to preach Islam in the other countries they were fought by those countries armies and they had to defend themselves or just be killed. Those are the two cases where you're allowed to do Jihad.
"Fight them until there is no [more] fitnah and [until] worship is [acknowledged to be] for Allah .
But if they cease, then there is to be no aggression except against the oppressors
."
"Excepted are those with whom you made a treaty among the polytheists and then they have not been deficient toward you in anything or supported anyone against you; so complete for them their treaty until their term [has ended]. Indeed, Allah loves the righteous [who fear Him]. And when the sacred months have passed, then kill the polytheists wherever you find them and capture them and besiege them and sit in wait for them at every place of ambush. But if they should repent, establish prayer, and give zakah, let them [go] on their way. Indeed, Allah is Forgiving and Merciful."
So you're only allowed to fight those who fight you and you have to forgive them if they stopped fighting or decided to join Islam.
Also why when a Muslim commits a bad thing, the whole Islamic world gets generalized for it ? What about those popes and priests who rape and molest children, should i go and tell every Christian that he's a child molester ? What about those Zionist Israelis killing and raping Palestinians. Should i go to every Jew and tell him that he's a killer or a rapist ? No, that would be unfair, but apparently it's fair when it comes to Muslims only.
If Muslims want to "take over the world", why couldn't they do that in their countries ? Do you think a bunch of weak women and kids and broken men can take over Europe when they're running away from death in their countries ? What about all those Muslims killed and tortured everyday for years in their own countries for being Muslims ? If the middle east is truly "the Islam headquarters", why are we getting oppressed and killed here then instead of praised and encouraged ?
Also what about those millions of Muslims who've been killed for years everywhere in the world and no one bats an eye ? Till now, Children get burnt alive, women raped, men slaughtered, and no one bats an eye, but when ANYONE else dies, everyone loses their minds. Are we not humans ? Is our blood cheap ? Is this fair ? No, but the media won't report it because they don't want Muslims to get any sympathy or support, just hatred and rejection.
Also why the media keep preaching day and night about Islam filled with violent things "when it's really taken out of context", while the Bible and Talmud are filled with direct orders of killing and raping and slaughtering every children and animals, and not a verse or two, but tons of them. Why the media doesn't mention that ? Why the priests who attack Islam won't mention that ? Because they simply don't want to do it for their own agenda.
Also they keep telling lies and myths to the poor people about how Allah is a different God or a moon God or any of that crap, since the people are ignorant and won't research it anyways. They don't know that Christians and Jews in the middle east also call God Allah, since Allah means God in Arabic and it's the name of the Abrahamic God. And also nonsense about how Muslims worship Satan and how the Quran is filled with sexual stuff, when there's no verse of any sexual things in Quran, while the Bible and Talmud and Torah are FILLED with incest, fornication, disgusting acts, borderline pornography, etc. They won't stop lying about how the Quran is filled with contradiction, when there's never been just one contradiction
in Quran. Those idiots usually get deceived by their ignorance of the Arabic language and lack of info about Islam itself, while on the other hand, the Bible and other books contain hundreds of clear contradictions.
There's a reason every part whether they're the media, the elite, the priests, the popes, etc, won't stop lying. Protecting their positions and protecting their plans is worth it even if they'll get burnt in hell later since they've already chosen this life to the afterlife.
Please try to give this a better chance, i know you've some potential inside you, but you're blinded by the brainwashing and the lies and you need to get yourself out of it for your own sake. Islam will not shatter your world or take away your happiness, it'll make both this life and the afterlife much much better and you'll finally find the peace you've desired near Allah. If you have any questions, you can ask me anytime.
May Allah guide you to the straight path.