Admin

wrote:

↑ https://www.linkedin.com/company/nasa/people/

So what do you think their hundreds of thousands employees have been doing during their whole career for the last 60 years?

What about all the other space agencies around the world?

https://en.wikipedia.org/wiki/List_of_g ... e_agencies

They all lie to everyone all the time? Their family, their friends, their acquaintances, etc. ?
Not all the people working in NASA are into it. Some are accountants, organizers, normal engineers, etc. The fucked up people are usually the people working in high positions and the astronauts, and yeah they're not telling anyone. And don't think that they believe what they're doing is evil, they believe themselves to be the most loyal and self-sacrificing "agents" who serve the true light and all this shit. And all those freemasons and those people, while doing evil things, they believe it's for the greater good. Thing is, you can't reach the good by doing the evil.
About the other space agencies around the world
As i said before, there's no Russia or America or China or anything like that, the entire world is controlled by a handful of people who have all the money, power and secret knowledge
What's written is "The Nine Unknown men" "There's no religion higher than the truth".
There's also a book about it
by the way since we talked about Jupiter, i mean if what Yette said was real, why would NASA have to resort to this ?
Added in 19 minutes 12 seconds:
Hey
@yettee
i looked into it and what you said is true, you didn't lie, however you've misunderstood it.
What you said was something similar to this amiright ?
As you can see, only with Jupiter you can see those "moons", but that doesn't really mean they're moons. And since Jupiter is too bright you can't see it revolving around itself either. Also stars revolving around each others is not something unusual, we have tons of stars revolving around Polaris.
So yeah, stars can revolve around each others, and this by the way would be impossible on the heliocentric model.
Also let's take a closer look at the stars and see if they're suns or not actually
Also why only Jupiter (which looks like a bright star anyways), if all the other "planets" look like this and they have no moons around them ?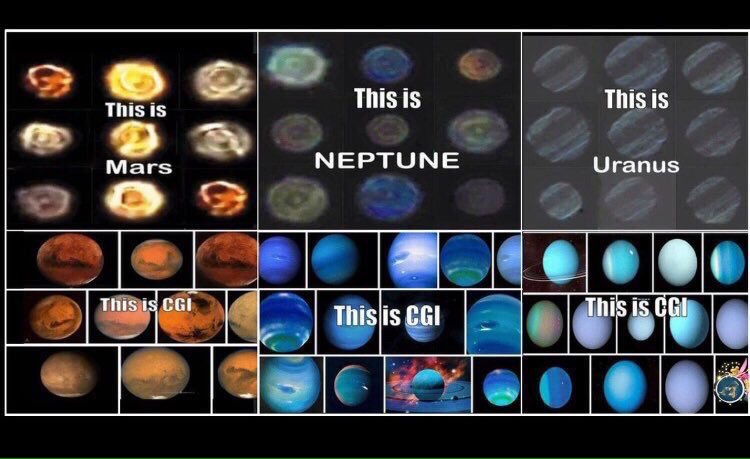 They look closer to the stars more than the sun by a thousand time at least.
I think it's unfair that you only focused on Jupiter and left the other planets, and anyways, Jupiter being a star having stars revolving around it, is not impossible actually.
And if Jupiter is really that easy to notice and debunks all the flat earth thing, why does NASA resort to this ?